YECK Land had its own special landscapes and there were many cute little naughty devils living on it. It used to be very prosperous and full of laughter as being in an amusement park so the Demon was very jealous and intended to destroy it. He lured those little devils being nasty, tricky and fooled around on the islands. Finally these behaviors led to the anger of God, God sealed everything on islands and the name "YECK" also has been disappeared on earth since then.
One day, players who love adventure find one of its islands accidentally. This tropical island has natural and open landscape. The scenes are dilapidated but still remain colorful and incredible architectures that witnessing its unknown past. The spectacular history of YECK Land will be exposed little by little through players explore the island, search for treasures, triggering the hidden devices and play interesting games.
Some wonderful hidden treasures and interesting games in the island.
Find YECK BABY – the landmark of the island! Immediately take a photo with dancing pose. Oops! Do I step on hidden device?
Adventure around the island, you will discover many treasures. You will also access to interesting games after triggering the hidden devices.
Play with the rhythm, who is the genius player that is good at using brain and hands!?Rhythm game [ scissors – Paper – stone ]
Rhythm game [ red and white flags ]
Using resources on getting powerful companions is the key to win.
Everything count on you, my magical companion [ Tower Defence ]
YECK Land Shop provides various roles and costumes. You can also buy naughty Chimera, IMP, weird Toxic Doll and Mercenary Woman to be your partners and taking them around with you.
YECK land shop with special design
14 different types of cute companions accompany you to explore and experience the adventures.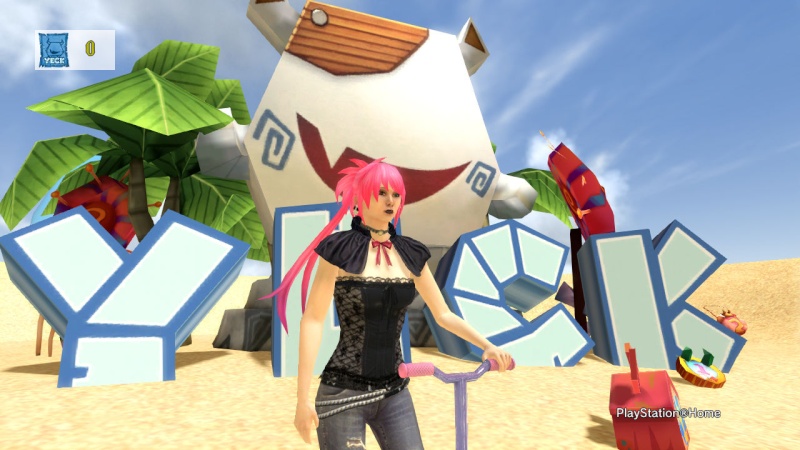 YECK Land? More like YUCK Land, lol It's soooo boring, in my opinion. There's nothing to do unless you buy tickets (Unlike Midway, there is no opportunities to try the games for free and the prizes don't appear to be anything special.) Even if you do buy tickets, the games are
hidden
around the island. Only way to play one is to bump into the game itself to trigger a pop-up message. The games tend to be statues or objects in the sand. And if you can understand what the little floating blue slime creatures are saying when you approach one, could you translate for me? lol I'm assuming it's the cost of points earned from a game to be exchanged for a prize but... what game... and which prize? Overall, I was very dissapointed with this new space and probably won't be returning to it anytime soon.